For the first time, Government of Pakistan Tehreek-i-Insaf has been working on improving Pakistan tourism by making it a desired destination across the globe.
However, To attract more of the foreign travelers now in country, Government has removed No Objection Certificate (NOC). In conclusion, Now by this action, tourists can travel freely in Pakistan.
Ministry of Interior issued a notice about foreigners. According to which foreigners can now freely travel in Gilgit-Baltistan, Azad Jammu and Kashmir and Chitral. However they can travel all the areas except some places that are nearby to the border.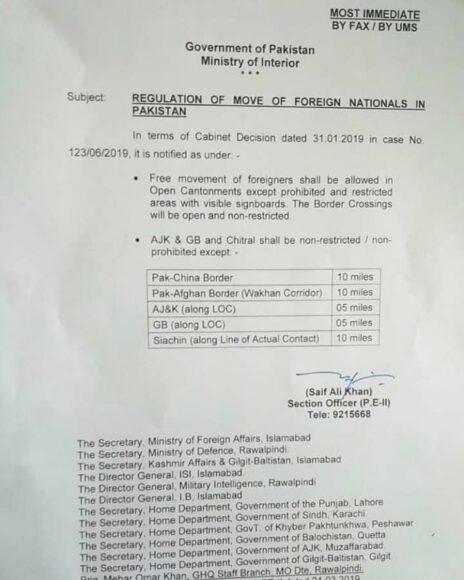 The notice stated:
Foreigners will be allowed to travel freely in Pakistan except some restricted and prohibited areas that have visible signboards. In addition, there will be Non-restricted and Open border crossings.
It also included that:
Similarly, All will be non-prohibited/non-restricted areas of GB, Chitral and AJK, except:
| | |
| --- | --- |
| Pak-China Border | 10 miles |
| Pak-Afghan Border (Wakhan Corridor) | 10 miles |
| AJ&K along LOC | 5 miles |
| GB along LOC | 5 miles |
| Siachen along Line of Actual Contact | 10 miles |
Therefore, This made a lead in the efforts of government to present Pakistan as the safe and best travel destination around world for travelers.
Before this, Government of Pakistan had announced the E-Visa and Visa on Arrival facilities to make it ease for travelers to visit Pakistan.