Swat Things To Do: Attractions In Swat And Must Visit Places
Never been to Swat, then you must missing the amazing place of Pakistan, that is also called the Switzerland of East. Swat is an area in KPK (Khyber Pakhtunkhwa) Pakistan.
The beautiful Swat valley, popularly known as East Switzerland, is a delight for tourists and is characteristic of the magnificent natural beauty and rich historical past. Thanks to bustling rivers, waterfalls, winding streams, glacial lakes, pine forests, alpine meadows, snowy peaks of Mankial and Flaksair, fruit-filled orchards, lush green fields, and flower-filled mountain slopes, especially the friendly Swati people, known for its traditional hospitality. Kalam, Mahodand Lake, Malam Jabba, Takht-i-Bahi, Saidu Sharif, White Palace, Ushu Forest, Mingora, and Buddha Stupas are some of the main attraction in Swat.
The Swat Valley is undoubtedly one of the most beautiful tourist destinations in the valleys of northern Pakistan.
The Swat Valley with Swat River is located in the Khyber Pakhtunkhwa area and is surrounded by a dense green forest and a huge distribution group of the Hindu Kush occupying 56 different streams and waterfalls. About 315 km from the territory of the capital of Pakistan, Islamabad. Mingora and Saidu Sharif are the most important district in Swat. Moreover, it is the third-largest city in Khyber Pakhtunkhwa Province.
Places To Visit In Swat
There are different places to visit while exploring the Swat Valley is Malam Jabba; a ski resort with stunning views, then our Fiza Ghat Park, a favorite picnic spot for tourists, where you can enjoy delicious food with nice weather. Above all, Wadi Kalam is a tourist paradise located 99 km from Mingora, inside the valley, there are many exotic places like Usho is a mountain station. Then Matiltan is a picturesque place after Osho and is located about 11 km from Kalam
Go ahead, Utror and Gabral there, all these mountain stations are surrounded by snow-capped mountains with lush green forests yet they are worth seeing Lake Kundol in the area. Plus, it is worth seeing brown Swati trout, dense green forests, springs, high snowy peaks, and beautiful lake. Includes Shahi Bagh Lake located northwest of Sazgul region in about three hours of walking. Nothing is more beautiful to breathe fresh air filled with calm and serenity.
Tourists love to visit the Swat Valley for beautiful scenery, hiking, fishing, and trekking. The clear waters of Lake Mahodand, the dense green forest of the Ushu, and the flowing and spinning Kalam Falls make this tranquil beauty a worthy destination for honeymoon couples. We have a list of some popular tourist destination of Swat have a look.
Kalam Valley
Wadi Kalam is a must-visit place in Swat Tour, or you can say Swat Tripp is incomplete without visiting Kalam. Kalam is a tourist paradise, about 99 km north of Mingora, at the northern end of the Swat River in the Khyber Pakhtunkhwa District of Pakistan.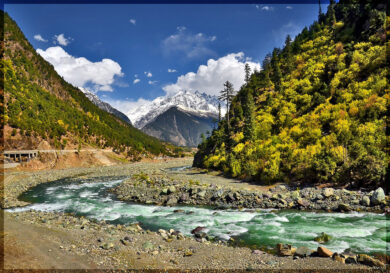 Kalam is surrounded by lush green hills, dense forests, natural lakes, grasslands and more. Valley Kalam is the birthplace of Swat River and the secret of two major rivers, Gabral and Usho. There are many beautiful hotels in the Kalam Valley, where you can spend the night and enjoy the cold weather of the Swat River.
Malam Jabba
Malam Jabba another famous destination of Swat and only ski resort in Pakistan. It is 314 km from Islamabad and only 51 km from Saidu Sharif Airport. It is one of the famous hill stations in the Hindukush area. The road to Malam Jabba is beautiful. There is no doubt that this is a beautiful ski resort surrounded by beautiful forests. Malam Jabba Resort offers large facilities in Pakistan for summer sports and adventure travel.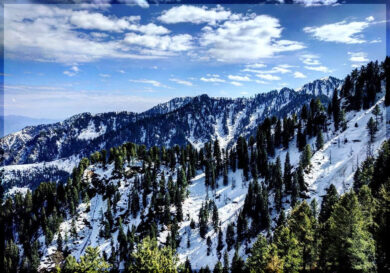 The stunning mountains attract many visitors, including amazing skiers. The Malam Jabba Alpine Ski World Cup is held every year. Also, enormous skiers participate is this championship around the world, Malam Jabba is like a paradise for skiers.
Bahrain
Bahrain is a popular mountain and tourist attraction along the Wadi Swat. Known as Bahrain (two rivers) due to the mingling of the Daral and the Swat River. It is known for its riverside resorts, local handicrafts, and views of the Daral and Saidgai Lakes. The tourist attracts to this place because of its amazing lakes and pleasant weather, the winter is extremely cold here.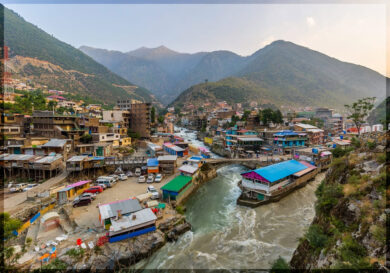 Murghzar White Palace
The Murghzar is a small town in Swat, about 13 kilometers from the Saidu Sharif. As we all know, northern Pakistan is known for its absolute beauty. At the same time, Murghzar is known for his white marble castle, which was built by Wali-e-Swat in the 1940s. Wali-e-Swat Jahanzaib used to live here in summer, later the Whit Palace converted into Tourist Resort. Also, on the way to Murghzar, there comes a place called Islam Pura, which is known for its wooden works, shoes, and blankets.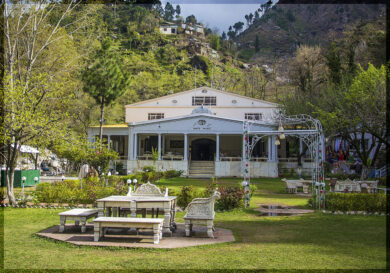 Kundol Lake
In the huge mountains of Hindus Kush, there is the beautiful Lake Kundol, attracting thousands of tourists. The lake is surrounded by snow-capped mountains in the northern Utror Valley, a lush green forest. Visitors enjoy incredible weather in a great place to camp by the lake because of the trees and use the lens to capture the night scene. Additionally, the lake is 9,950 feet above sea level, the best time to visit the lake is summer, where you can fish and sail. In winter, the road leading to the lake is close due to heavy snow.