Famous Dams of Pakistan
List of Famous Dams in Pakistan: A variety of functions is accomplished with dams that notably include the flood control, flat water recreation, hydropower electricity generation, and water supply and mostly built on river and streams. There are approximately 150 dams in Pakistan.
The major chunk of dams built from 1960 to 1975. Pakistan has blessed that it holds the title of owning the largest earth-filled dam on earth which is the Tarbela dam. We have created a list of some of the Famous Dams of Pakistan that also include in the report of International Commission on Large Dams. According to the report, there are 150 dams that are 15 meters and 49ft. Take a look at the list.
Tarbela Dam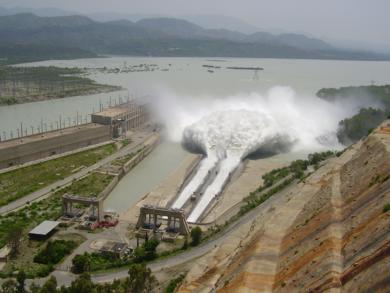 First and the foremost in Famous Dams of Pakistan, is the Tarbela Dam, the largest earth-filled dam on the earth. The dam situated on the Indus River which is second largest in structural volume after the Three Gorges Dam in Hubei Province, China. Moreover, it was started in 1968 and was completed in 1976 at a cost of $1,497 million. Furthermore, it is 143.26 meters or 470ft in height and 2,743.2 meters or 9,000 ft. in length. Additionally, the total capacity of the dam is 13.69 cubic km spread over the construction area of 168,000 Km2.
Mangla Dam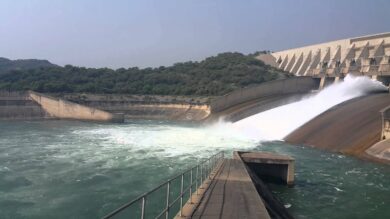 Second, on the list is the Mangla Dam, is also the ninth-largest dam in the world. The Dam was constructed in 1967 in the Mirpur district of Azad Kashmir. Mangla Dam is built on the Jhelum River with a length of 3,140 meters or 10,302 ft. And the height of 147 meters or 482 ft. The cost spent on this project was about $1.473 billion that was funded by the World Bank.
Warsak Dam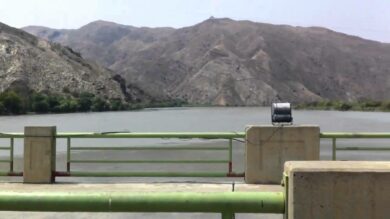 Warsak Dam is third on the list of the Famous Dams of Pakistan. The dam located on Kabul River in the north-west of Peshawar, the provincial capital of Khyber Pakhtunkhwa. The Warsak Dam has completed two major phases. The first phase was completed in 1960 and the second one from 1980 to 1981. Furthermore, the total height is of 76.2 m or 250 ft. with a length of 140.2 m or 460 ft. The total cost spends on construction was 156 million rupees. Above all, the Warsak Dam Hydropower Project has a capacity to produce 243 MW electricity.
Mirani Dam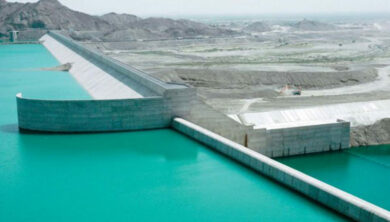 Fourth on the list is Mirani Dam. The dam was built from 2002 to 2006 with a cost of 5,267.90 million rupees. Mirani Dam considered to be the largest dam in the world in terms of volume for flood protection. Moreover, the dam is on the Dasht River in Baluchistan, with a height of 39 meters or 127 ft. and length 1,020 meters or 3,350 ft. Above all, the capacity having flood stock of 588,690 cubic hectometers.
Khanpur Dam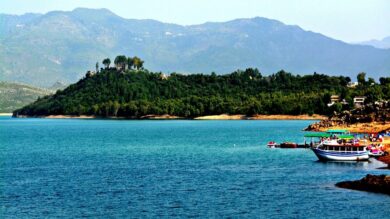 Lastly, the Khanpur Dam that is built in the Haro River which is on the Pothohar Plateau in Khanpur district of KPK. The dam is accessible on 40 km away from the capital territory of Islamabad. The Dam is also a great source of drinking water to the native of twin cities.
The dam completed in 1983 after a 15-year construction period believed to have cost Rs. 1,352 million. It is 167 feet (51 m) high and stores 110,000 acre-feet(140,000,000 m3) of water. Moreover, the green and blue water dam are also has a great attraction for the tourists.
Satpara Dam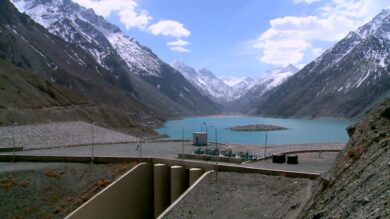 Medium Sized earth-filled Dam with the multi-purpose located 4km from beautiful Skardu Valley, Satpara Dam. Moreover, This Dam is based on the natural reservoir of Satpara Lake in Gilgit-Baltistan of Pakistan. Being the only source of electricity and freshwater supply to Skardu Valley, Dam enlarged the Satpara Lake. This Dam generates Hydroelectricity of 17.36 MW. In addition, the reservoir provides drinking water of 3.1 million gallons per day to Skardu city.
In April 2003, construction of Satpara Dam begin and expected to be done till November 2011. First and second Power House Units came into operations on 6 October 2017 and 30 December 2008. After that, the United States Agency for International Development (USAID) and the Government of Pakistan come to an Enhanced Partnership Agreement. Through this, for the completion of other work and construction of Power House units No. 3 and 4, USAID agreed to give US$26 Million. However, Power House units No. 3 and 4 came into commercial operations on May and June 2013.
In the year 2013, it was expected for the official inauguration to take place.
Gomal Zam Dam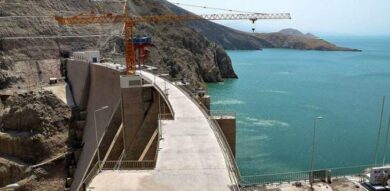 Multi-Purpose Gravity Dam located in the South Waziristan Agency of Federal Administered Tribal Areas, Pakistan, situated Gomal Zam Dam. Passes from a narrow gap in Khjori Kach, Dam is on the waters of Gomal River, a branch of mighty Indus river. However, The main purpose of Gomal Zam Dam is Hydroelectric Power Generation, Irrigation and Flood Control. In August 2001, The building process of Gomal Zam Dam started and completed in April 2011. PowerHouse Units of Dam completed till March 2013 and started production of electricity in August 2013. Along with Shaukatullah Khan Khyber Pakhtunkhwa Governor and US Ambassador Richard G. Olson, Minister for Water and Power Khawaja Muhammad Asif officially inaugurated the Dam on 12 September 2013.
With the depth of 133 m (437 feet) of Gomal Zam Dam, is an RCC (Roller-Compacted Concrete) Gravity Dam. This Dam can generate electricity of 17.4 MW. In August 1963, construction of Dam was approved by Government of Pakistan and initial work took place. However, because of the Indo-Pak 1965 War, construction of Dam stopped. Later on, General Pervaiz Musharraf, President of Pakistan ordered to start construction of Dam in 2001. Therefore, on Independence Day 14 August 2001, the ceremony for Groundbreaking took place and constructed till April 2011.
Hub Dam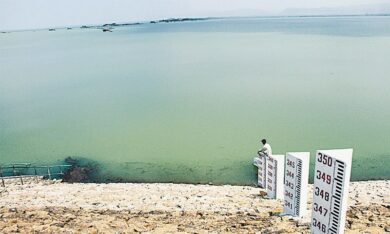 Located on the Hub River is a water reservoir with the name of Hub Dam. This Dam is on the border of Balochistan and Sindh provinces in Districts of Lasbela and Karachi around 56 Km away from Karachi. With a gross storage capacity of 85700 acre-feet. However, this made this Dam the Third largest of Pakistan. In conclusion For Karachi City, this Dam is the main source for drinking water.
The area surrounding the Dam declared as Wildlife Sanctuary in 1974 by Sindh Government. The area of Sanctuary is around 27219 hectors. For nesting and feeding of Ducks, Waders, Pelicans, and Cranes, this sanctuary is the most favorable area. On 01 May 2001, Ramsar Site was designated by hub Dam.
This Dam is a famous tourist spot as well. However People from Karachi in a large number visit this spot on the weekends to enjoy swimming, Picnic, and Fishing. In addition, for tourists to stay there is a rest house by WAPDA.
Diamer Bhasha Dam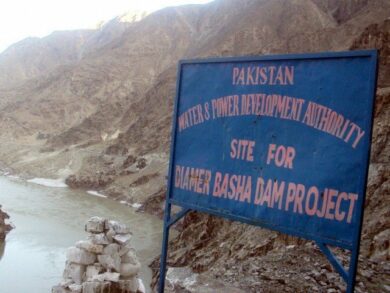 On River Indus in Gilgit-Baltistan of Pakistan, there is a Diamer-Bhasha Dam, in the early stage of construction. This is the concrete-filled gravity Dam. On 18 October 2011, Yousaf Raza Gillani Prime Minister of Pakistan laid the foundation stone. However, after completion, this Diamer-Bhasha Dam will become the World highest RCC (Roller-compacted concrete) Dam. The name based on the location Bhasha in Diamer District of Gilgit-Baltistan, Pakistan.
After completion of Diamer-Bhasha Dam, it will be able to generate Hydroelectricity of 4500 MW. Along with this, Dam will be able to store 8,500,000 acre-feet extra of water that will be used for drinking and irrigation purposes in Pakistan. Also, this Dam will control flood damages during high floods by River Indus and can increase the life of Tarbela Dam.
Addititionlly, there will be Fourteen Gates for the Dam with a height of 272 meters. Diamer-Bhasha Dam will have 6,400,000 acre-feet (7.9 km3) of live storage, however, 8,100,000 acre-feet (10 km3) will be a gross capacity of the reservoir. The dam will be having two underground powerhouses. Each powerhouse will have six turbines with a maximum capacity of 4500 MW.
Gulpur Hydropower Plant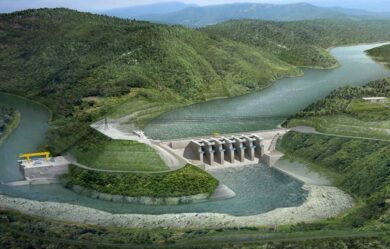 Situated on Poonch River, run-of-river hydroelectric generation project, Gulpur Hydropower Plant (GHPP) is being constructed. In Kotli district of Azad Kashmir Pakistan, Poonch river near Gulpur is a major Sidestream of Jhelum River. The Dam site is around 285 kilometers from Capital of Punjab, Lahore and 167 Kilometers from Country's Capital, Islamabad. This location can be reached easily by all-weather paved, mountainous road.
This Gulpur Hydropower project designed for 100 Megawatts (130,000 hp) hydroelectricity generation. However, the project is one of energy generation plan on least cost. A subsidiary of Korean Company KOSEP, MIRA Power Limited got the contract by WAPDA for this Dam project. In conclusion, Annual energy generated by this project will be 465 MW.
Kalabagh Dam
As the list of Famous Dams in Pakistan goes on, we have Kala Bagh Dam, the mist controversial dam of Pakistan. next Proposed Hydroelectric Dam in Mianwali District of Punjab, Pakistan, The Kalabagh Dam. This Dam is in Kalabagh on Indus River. Kalabagh Dam can generate up to 3600 MW of Hydroelectricity if constructed. However, the biggest benefit of Dam is to control the water crises of the country. Moreover, construction of Kalabagh Dam is the biggest controversy in Pakistan right now.
Neelum Jhelum Hydro Power Plant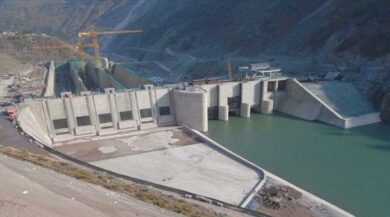 Furthermore, Hydroelectric Power Scheme in Pakistan to build run-of-the-river Neelum Jhelum Hydropower Plant. Specially designed to change the direction of water to power station on Jhelum River from Neelum river. In Azad Jammu and Kashmir of Pakistan, this Power Plant situated around 26 mi (42 Km) south of Muzaffarabad.
Moreover, it can generate hydroelectricity of 969 MW. In July 2007, Chinese company got the contract to construct the Dam and work started in 2008 on the project. However, the project delayed for many years and finally in April 2018, the first generator came to operations.
Furthermore, the forth and last power unit started generating electricity. On 14 August 2018, reached the maximum capacity of 969 MW and the whole project completed in the month of August 2018. In conclusion, for the next 30 years, at the level tariff of Rs 13.50 per unit, this project will be generating 5,150 Gigawatt per year.
If you like the like the list of Famous Dams of Pakistan, or want to share your thoughts, write to us in the comment section below, we would love to hear from you all.